Meet the Muse-icians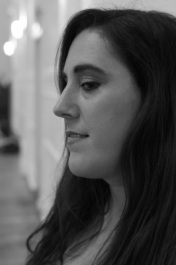 Katie Poeck Company Member

Katie is a free-lance musician who delights in collaborative projects where she can use her classical music training in French horn and voice to blend and enhance live performance. Most recently she performed The Holy City: A Festival of English Choral Music under the baton of Craig Jessup at Stanford Memorial Church. Playing French horn, she recorded A Royal Christmas with Royal Court Brass and sang in the chorus on the San Francisco Symphony recording of Mahler: Symphony No. 2. A graduate of San Francisco State University with a Bachelor of Music in French Horn Performance, Katie contributes her artistry and administrative superpowers as Assistant Manager for Peninsula Youth Orchestra since 2004. Music is a family affair as she enthusiastically joins her brother, Tony Madrone, to organically improvise music for the dancers' soundscape. When not working, she relishes time with her 9-year old son, Aiden, who is a pianist and percussionist, and active sports enthusiast. A Company Member since 2010 she performed with A Mused Collective in Scotland at the Edinburgh Fringe Festival in 2012.

---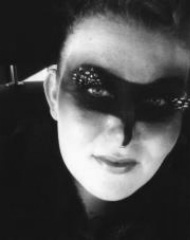 Saranique Schwartz Company Member

Saranique (Snique) is a classically trained flutist with an impressive flair for improvisation. Snique is not only a talented musician, she is a photographer, artist, performer, circle spinner, dog trainer and life lover. Snique's artistry extends into every element of her life and A Mused Collective is honored to have her positive vibes and creative energy in the mix.







---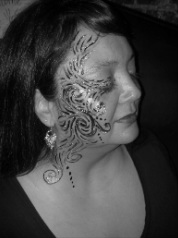 Belinda Yamate

Belinda is a graduate of Roosevelt University's Chicago College of the Performing Arts Musical Theatre program, and of the Professional Acting program at Pacific Conservatory of the Performing Arts ("PCPA Theaterfest") in Santa Maria, California. She began singing at about age 4 with her dad in their family's home stairwell – the acoustics were excellent! – and around that same time she participated in her first live production as the tiniest Indian in a local children's theater production of "Peter Pan." A native of Napa, California, she currently resides in San Francisco, where she continues working as a writer and featured vocalist on a variety of music-based projects, including those involving electronic dance music, world music, New York Style cabaret, and choral performances. Being a part of the AMC family for this production for her is both an honor and a privilege.



---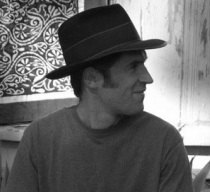 Tobin Mayell

Tobin has studied West African percussion for over ten years and it continues to inspire his desire to spread rhythm, dance and celebration. After years on the drum set, following in the footsteps of his father, the traditional rhythms of the Mande and Bambara peoples brought new life and purpose to his drumming. His teacher, Abdoulaye Jiakite, taught Tobin in both Oakland, California and Tambacounda, Senegal.
---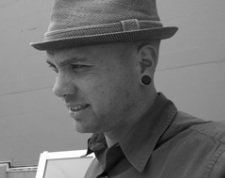 Sean Araneda

Sean is a Bay Area native and a long time
student of music. From the age of 10 he started with clarinet, bari sax, and voice until discovering African drumming in college. He has studied African drumming for 20 years in the Bay as well as abroad in West and Southern Africa. His primary focus has been traditional rhythms and songs from Guinea, Mali, Senegal and Ghana with such teachers as Kwaku Daddy, Sory Bangoura, Mabiba Baegne, Mamady Keita, Karamba Diabate, and Bolokada Conde. He has toured with groups such as Lokole, Les Percussions Malinke, Rhythm Village, and the traditional Zimbabwean performance troupe, Chinyakare, led by Julia Chigamba. Sean's ultimate goal is to pass on the knowledge, wisdom, and enthusiasm that was so generously given to him by his teachers.

---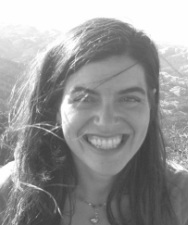 Anna Stearns

Anna has been involved with music, dance and theater for most of her life. For the past 13 years Anna has taught and performed West African and Brazilian music and dance in the Bay Area. She is best known as the 3rd, 4th and 5th grade music teacher for the Mill Valley School District, where she incorporates voice, percussion, movement and theatrics into her teaching.
---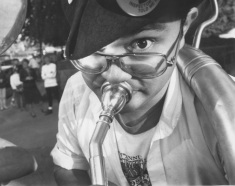 Troy Turpen

Troy started playing the trumpet his senior year of High School, then upon entering UC Davis in 1980, he was introduced to the Mellophone in the Cal Aggie Marching Band and has been on horn ever since. Troy played in the Athenaeum in Bucharest, Romania in 1985, and he continues to entertain audiences young and old around the globe with The California Repercussions, always searching for the perfect venue. Troy has been a musician for 32 years, played in countless orchestra pits and has been seen recently on stage in Runaway Stage Storybook Theater and the Light Opera Theater of Sacramento (LOTS) productions. During the day he is a mild mannered Client Services Supervisor for an environmental laboratory. (Photograph by Tony Novelozo)

---