Collaborators
PDA: Public Dance Acts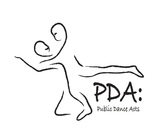 PDA: Public Dance Acts is a series of local, public events that bring dance into unexpected and unlikely places, instigating the joyful, communal experience of the moving human spirit.

Biography
For the first season of PDA is supported by The Institute for Exploration in Theatre, Dance and Performance at UC Davis. Producer Shelly Gilbride, PhD is collaborating with Christine Germain to create two public dance events in Davis CA in the Spring of 2012. Dance Dance Davis, a choreographed flashmob and the Library Dance Project achieve many goals: forging campus/community partnerships and relationships, building broad public awareness and support for dance, exploring the communal dance-making process, making dance accessible to many, and revealing the possibility of intellectual inquiry with the moving body.
---
Become a project collaborator or partner
A Mused Collective is interested in reaching out to a wide variety of community arts and performance groups. If you would like to learn more about joining in the project development and workshop/performance opportunities, please provide a description of your organization, the community you serve and your contact information to Abby McNally (contact information below).
For More information check out the attached reference guide:
Collaboration Guide and Performance Opportunities
Abby McNally
Artistic Director
A Mused Collective
abby@amusedcollective.org