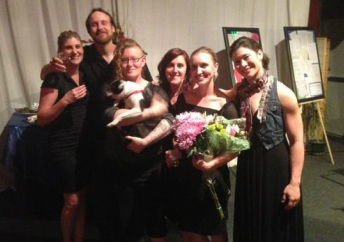 June 2013 marks the 4-year anniversary of A Mused Collective and I wanted to take a brief moment to muse on our journey together. In 2009 I reached out to a handful of talented friends with an idea and a vision that sparked a path of friendship, community and growth. After countless rehearsal and development hours both in and out of the studio and a closet full of costumes, A Mused Collective has danced, played music and sang in 30 performances and produced 6 shows throughout California and Oregon in the U.S. and in Edinburgh, Scotland all in just 4 years. We can't possibly imagine what the future holds, but are excited to find out!
Performing is just one of the many perks to being A Muse… Through our desire to share dance and music with anyone and everyone we held free creative movement workshops in Oakland and provided a dance workshop series for a talented and inspiring group of young dancers through
Coachart
, a non-profit that provides free lessons in the arts and athletics for children with chronic and life-threatening illnesses. Through our communities' generosity we were also able to provide ballet slippers and healthy snacks to each student!
Most recently on April 20th we shared a special preview performance for our latest project Sincerely Rescripted at Kinetic Arts Center in Oakland, and we have another Preview Performance coming up in July 2013. Since the launch of our project in November 2012, we have received over 120 letters and counting, and the project continues to change our lives for the better.
See our Project Outreach Map for more details.

Looking towards the future, we are in the process of planning our 2014/2015 Sincerely Rescripted Performance Tour throughout Northern California and beyond, culminating with a performance at our home base in the San Francisco Bay Area. We are currently developing four new performance pieces using your letters as the inspiration for our work. Twisted bodies and twisted tales of the heart will challenge the meaning of love and explore the bonds of community. We will take you on a journey to the depths of the human experience as we honor and remember lives lost.
In addition to continuing our participation with
Coachart
, we will be volunteering with an international non-profit organization to teach dance and music to children in need. Our outreach will also include performances and collaborations with artists. We are in the early planning stages, so stay tuned for more details to come.
Thanks so much for your continued support and I hope to see you at future performances, workshops and events. Without your support we would not be able to create community inspired performance art and provide free dance and music lessons.
With Sincere Gratitude and Appreciation ~ Abby